Coasters Set of 4 with stand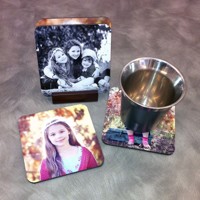 Great Cool Gift Idea that will last!

Quality Cork Backed Coasters! Solid wooden stand, set of four personalised images. (four different images!)

Who would not want their own images, Art, Portraits or word art for that matter on coasters. Even name them for work or put your logo on them for special clients. (ask us for corporate discounts for bulk.)

Your image is heat sublimated into the surface so they are hardy and scratch resistant.
$50.00
Coasters Set of 4 with stand

Great Cool Gift Idea that will last!

Quality Cork Backed Coasters! Solid wooden stand, set of four personalised images. (four different images!)

Who would not want their own images, Art, Portraits or word art for that matter on coasters. Even name them for work or put your logo on them for special clients. (ask us for corporate discounts for bulk.)

Your image is heat sublimated into the surface so they are hardy and scratch resistant.

$50.00